Singapore Chinatown: An Asian Foodie's Paradise
Introduction. My two-year hiatus from writing was not without reason. The day after I published my Oakland Chinatown post, Hong Kong police fired tear gas on thousands of Hong Kong citizens, triggering a historic two-month protest now known as the Umbrella Movement. For the first time in my life, I felt conflicted in my identity. Hong Kongers, in their fight for universal suffrage, sought to delineate an identity separate and distinct from that of Mainland Chinese. But most -- like me --- have roots inextricably linked to China. This clash, for me, was real. And with many Chinatowns currently inhabited by immigrants from Mainland China, I suddenly felt distant, different, and a loss of desire to continue this blog. Given our shared history and background, the divide was a sad state of affairs.
A turn of events occurred -- and quite unexpectedly -- during a four-day stay in Singapore Chinatown. For this, Singapore Chinatown will always hold a special place in my heart. A piece of the past, mouth-watering hawker fare, impeccable cleanliness, and national pride -- who knew that a faraway Chinatown with these unique traits would serve to remind me of who I am?
What Is Singapore? There are so many misconceptions about Singapore, and I admittedly knew little before landing at Changi Airport. An island at the end of the Malay peninsula, some say sea gypsies and pirates inhabited it until British colonization in 1819. By the early 1900s, it had evolved into a popular trading hub for Europe and Asia. Many from Southern China, like Guangdong and Hokkien, fled here for a better life. Sadly, they found jobs only as coolies, hawkers, and indentured servants. Working endless hours, some gave their earnings right back to gambling and opium dens.
To understand the history of Singapore Chinatown and its first settlers, a visit to the Chinatown Heritage Center located on 48 Pagoda Street is imperative. In an audio tour narrated in both Cantonese and English, I walked through a three-story Chinatown SRO (single room occupancies) that portrayed the homes of these early residents. This two-hour experience transported me back to Singapore Chinatown in the 1920s through the 1950s. My throat grew tight as each exhibit reminded me that my privileged life -- like that of many second-generation overseas Chinese -- came at a price.
The following are just some of the stories that were told during the museum tour (click on each photo to enlarge):
A Cantonese tailor left his family in China to open a shop in Singapore. Living alone, he fit all of his possessions, including a prized 1920s camera, a buddha statue, and photos of his wife, in a tiny 8x8 room.
A Hokkien couple raised a family of five in this small bedroom. Here, they utilized the space to sew, play games, eat dinner, and sleep. Many tenants shared one kitchen, so families kept hot water thermoses and kitchenware in their rooms. If you enlarge the photo, you'll see a sewing machine to the left. The mother would do work for the tailor as her children played right at her feet.
Samsui women traveled to Singapore alone to work and send money back to China. Together, these women, many of whom were sor hei (those who combed their hair into a tight bun and took an oath never to marry) bravely rejected a life in brothels. Instead, they chose to perform heavy manual work, like carrying materials and debris in baskets held by a shoulder pole to construction sites. These women also served as servants, nannies, and cooks for wealthy Singaporean families.
A street food peddler worked day and night, balancing a pole over his shoulder to carry two baskets. One held a piping hot pot of red bean soup while the other contained bowls and utensils to serve his customers. Like hawker stalls, street peddlers were commonplace in old Chinatown. They could be heard, late at night, shouting out what they were selling. Children would run outside, coins in hand, to make a purchase.
Their lifestyles seemed identical to those Chinese who fled to Hong Kong and San Francisco Chinatown. They performed the same type of work, shared similar living arrangements, and even owned the same household items like feather dusters and the Chinese calendars. And irrespective of where they ended up, all Chinese immigrants of this era led lives of endless toil and sacrifice with a dream that their work will one day pay off. With this historical perspective, I set out to explore modern-day Chinatown.
今時今日 (Right Now, Today). Per the internet, Singapore is now over 75% Chinese, 15% Malay, and 7% Indian. That said, I was under the impression that English was the official language of Singapore. As soon as I landed, airport personnel politely greeted me in Mandarin, then promptly admonished me for taking the airport cart out of its designated area. I asked him about the official language. "If a person looks like a 華人 (Hua ren or person of Chinese descent)," he explained, "it's safe to use Mandarin. But English, Tamil and Malay are also spoken here." And he was right. But in Chinatown, it was both Cantonese and Mandarin that got me through each day.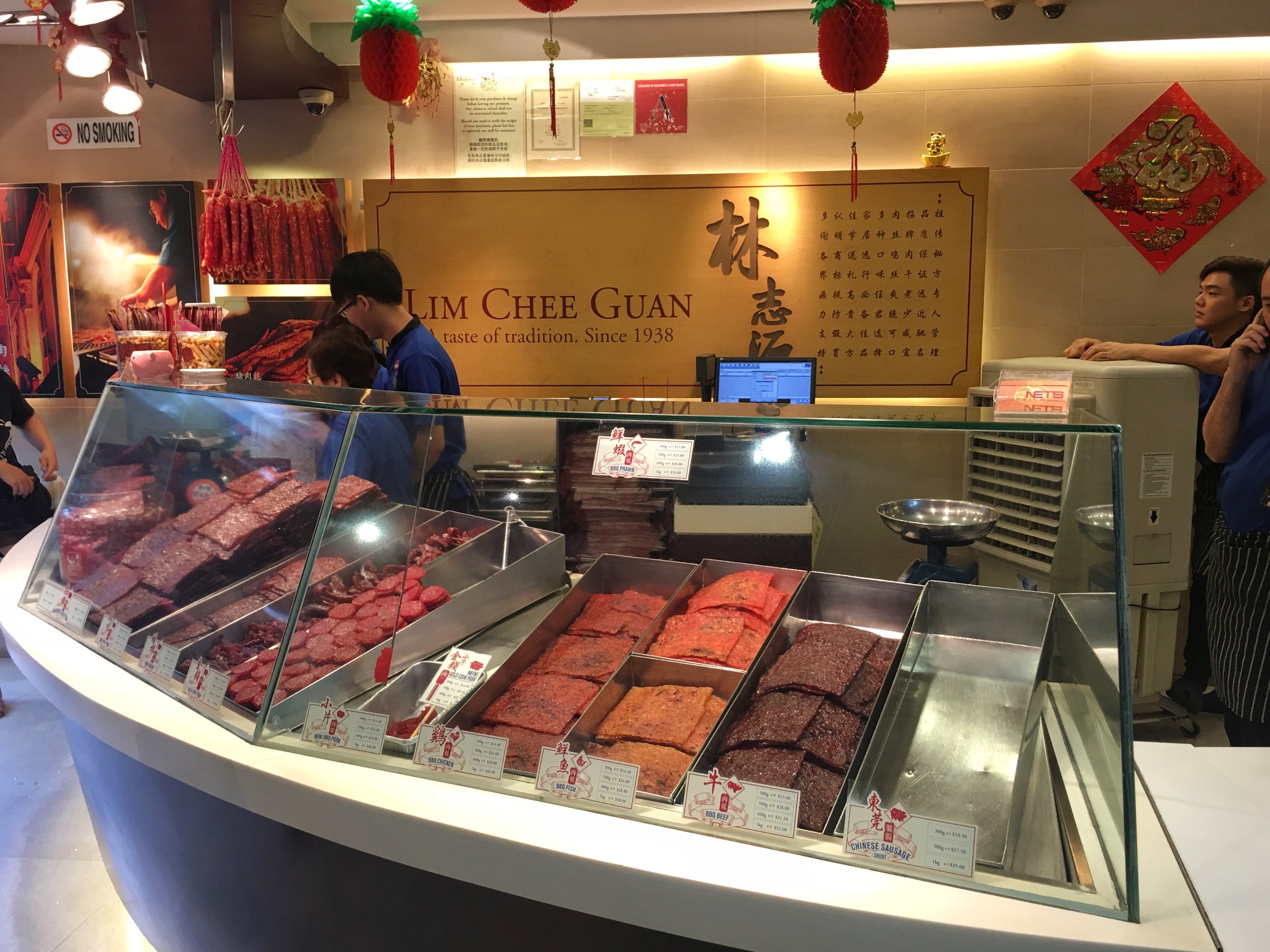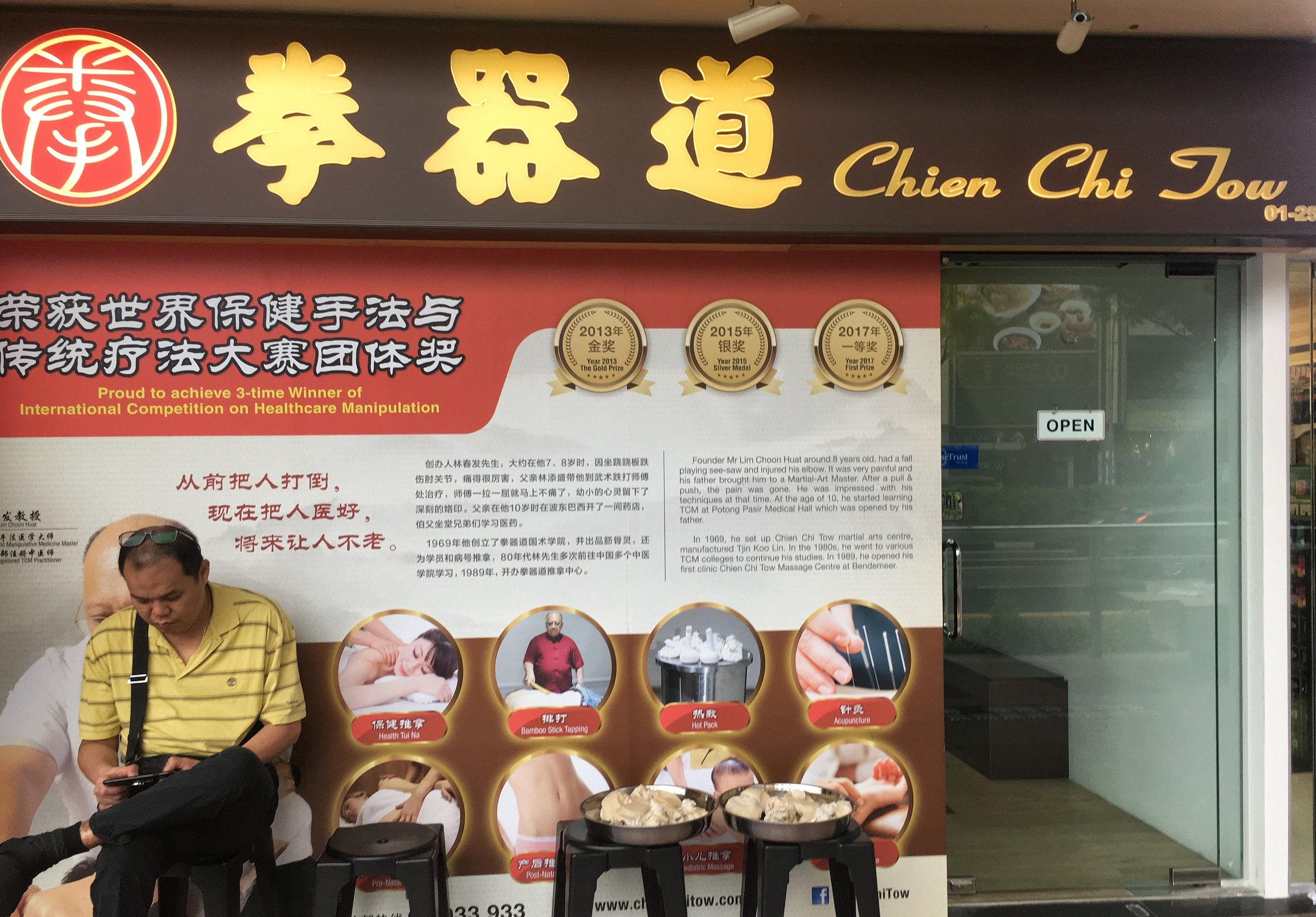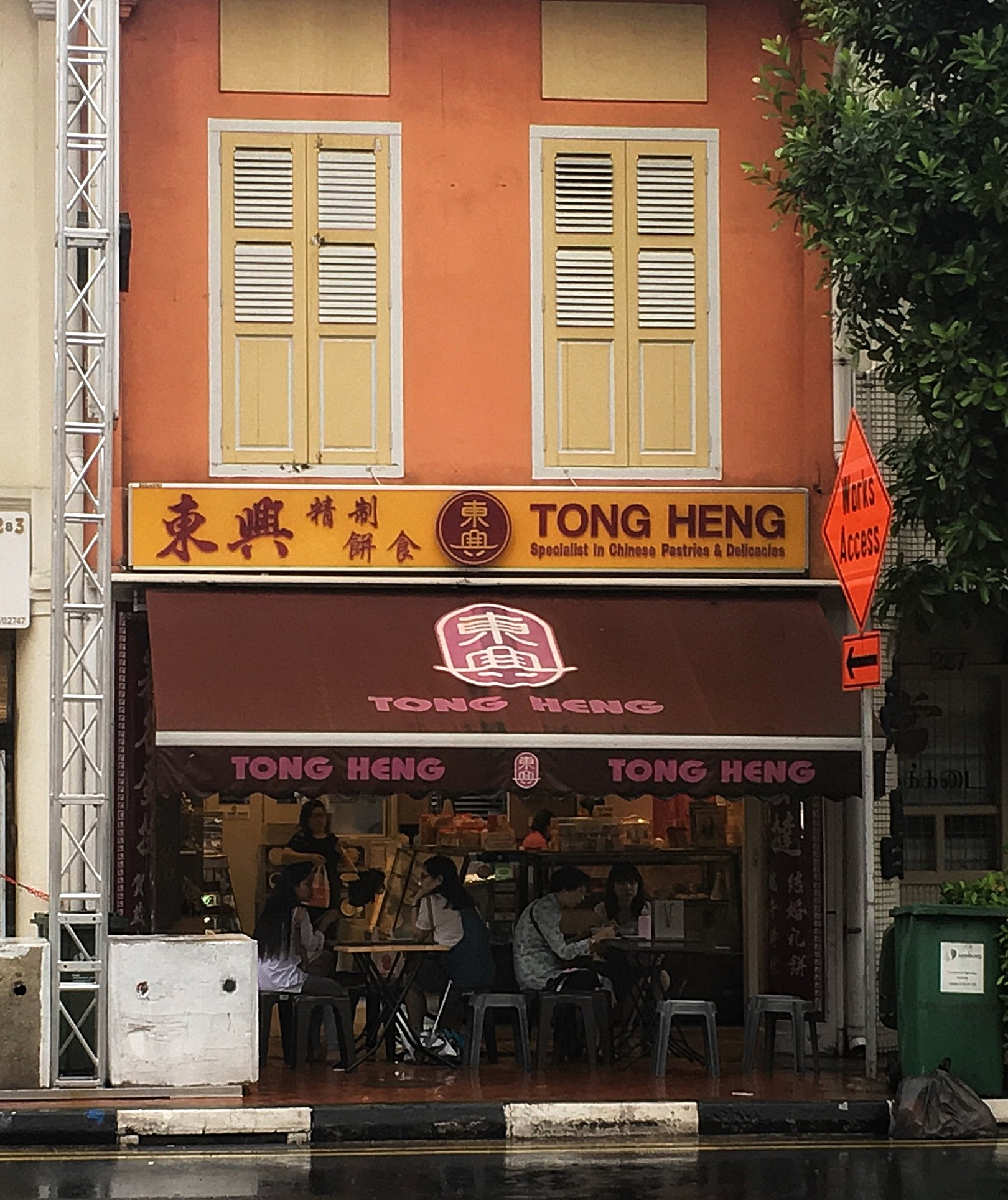 It is impossible to walk through Singapore Chinatown without wanting to check into every shop. From the moist, melt-in-your-mouth pork jerky from Lim Chee Guan to 貓山王 (mao shan wang) durian (supposedly the best), I spent hours on the same block in awe of my surroundings. Try devouring the stinky fruit in the pagodas above the stands. Because of the pungent smell, you'll have to find a secluded area to enjoy this fleshy delicacy. And because of the year-round muggy weather, you'll also find sugar cane juice stalls, and herbal tea shops like Hoong Woh Tong set up on every block. Be a local and try a freshly-brewed iced 王老吉 (wong lo kat). This bitter tea originated in Guangdong and is not only refreshing but can restore your body's equilibrium after eating yeet hay or acidic snacks. And to decompress after a long day of walking, visit a traditional Chinese traditional medicine master (dit da sifu) at a clinic like Chien Chi Tow, which offers tui na, herbal steam therapy, and even gwat sa, an old bamboo stick-tapping treatment intended to promote circulation.
For many early settlers of Chinatown, their hard work indeed paid off. The legacy of these pioneers is celebrated throughout all of Singapore. Take Yeo Eng Song, for instance, the Teochew man who sold bak kut teh (meat bone tea) from a rickety pushcart stall. Today, his restaurant, Song Fa, sits proudly off the Chinatown MRT. Crowds line up every day at lunch to enjoy his fall-off-the-bone pork ribs served with peppery broth at his flagship, which, incidentally, was listed in the 2017 Michelin Bib Gourmand. And the Samsui women who devoted their lives to construction work? Teddy bears in their image are now sold all over Singapore's Starbucks to teach the younger generation about their contributions to the nation's infrastructure. Seeing them acknowledged in this tangible form -- albeit as stuffed animals -- gave me great satisfaction.
Hawker Centres. Hawker centres are the modern day version of old Chinatown's open-air food stalls and are the highlight of any Singapore trip. Not to be confused with food courts, hawker stalls (大排檔 or dai pai dong ) are known for their 即叫即煮 (order now, cook now) policy. They more resemble mini-restaurants than fast food stands and are known for their variety and consistently amazing and affordable food. A driving force behind my decision to visit Singapore Chinatown was to find the hawker stall, Liao Fan Hong Kong Soya Sauce Chicken Rice & Noodle. Lauded as the world's cheapest Michelin-star meal, Chef Hon Meng Chan earned this recognition only after serving $2.00 soya sauce chicken rice plates for over two decades. His rags-to-riches story moved many, including me, and I stayed at the Park Regis Singapore just blocks from his restaurant. Each day, I eagerly set out to try his soya sauce chicken rice, and each day, without fail, I was distracted by so many other stalls that I was too full before getting there. It was a long and delicious journey.
Competition in Singapore Chinatown is stiff because there is so much talent here. And with the government's strict health regulations, every stall is so clean that food hygiene is a non-issue. It was an Asian foodie's paradise. Below are my top recommendations:
As my first hawker meal, this roast duck/roast pork combo from Zhen Zhu Fang Roasted Delights (珍珠坊烧腊) did not fail to impress. The crispy skin and juicy meat paired well with the fresh spinach noodles drenched in a delightful not-too-savory-and-not-too-sweet concoction. Located in the Chinatown Complex Plaza, Zhen Zhu sat on the first floor among about 30 other food stalls, some also serving Cantonese barbeque and others fresh sugar cane juice, Malaysian fare, Sichuan hot pot and more.
On the second story of the same complex, Chef Randy Tse, a native of Hong Kong, was skillfully preparing plates of lo mein. A bit of choy (vegetable) with five-spice chicken over a heaping plate of egg noodles, his dish is a culinary delight. When asked if he beat his own noodles (egg noodles are made by arduously beating the dough with a dough pin or bamboo stick), he exclaimed, "我仲有命咩?" which translates to, "Would I still be living?" For those of you who have followed my blog for a while, you know that this is a typical way Cantonese speakers communicate with one another. Answers are dry, never direct, but always lend to hilarity.
When you're ready, head over to Wu Shi Nian Dai 五十年代咖啡 (1950s Coffee). This Michelin-recommended milk tea is guaranteed to jolt you out of any food coma. Locals sat around as early as 7 a.m. to enjoy this with Kaya toast. I, however, paired this with a bowl of yong tau fu from a nearby stall, Xiu Ji Ikan Bilis Yong Tau Fu. This Hakka creation of tofu stuffed with blended fish or meat is served in a soup with mi fen (rice noodles). In contrast to the coarse fish cakes we have in the States, these silky-smooth babies were like pillows of heaven in my mouth.
If you're a Bourdain-follower, you've probably heard of Tian Tian. Located in the Maxwell Plaza, this was declared his favorite chicken rice joint back in No Reservations Singapore. In 2013, it went on to beat Gordan Ramsey in Hawker Heroes Challenge. But a few years later, the head chef found himself without a job. Feeling scorned, he opened his own chicken rice stall just two doors down, declaring a war. Eating a plate from each -- and awkwardly under the scrutiny of the owners -- I tried hard to overcome my propensity to help the underdog. Presentation, velvety meat, and fluffy, chicken-flavored rice -- both had them all. But one was superior. Which? You'll have to try and see.
By the last day of my trip, I had eaten all of the above, visited other hawker stalls, and even enjoyed a 10-course meal at Jaan, named one of Asia's 50 Best Restaurants in 2017. With the bar set this high, I finally arrived at Hawker Chan's.
As I stepped into the restaurant, I was surprised to see Chef Chan behind the glass, brows furrowed in concentration as he prepared rice and noodle plates for the lunch crowd. To my surprise, he smiled and waved when I took a picture. I would soon learn that this display of warmth was also exhibited in his food creations. Some say the difference between a good dish and an exemplary dish is that the latter is made with love. As I placed the first spoonful of rice and chicken into my mouth, I understood this sentiment. The chicken was tender; the rice fragrant. Chef Chan turned this very ordinary dish into something spectacular. I looked around and saw other customers -- customers from Hong Kong, Indonesia, Canada, and Beijing -- savoring every bite.
Conclusion. Some say the best journey is the one that brings you home. Having never previously stepped foot on Singapore soil, this trip remarkably did that for me. When I walked through the Chinatown Heritage Center, I saw my great-grandfather's life as an immigrant from Guangdong to San Francisco Chinatown. The SROs in the photos above were the same as the ones that my grandparents lived in when they left Toisan and Zhongshan to move to old Hong Kong. There was no hard line that separated the hardships they endured in China from those in their subsequent homes. It was all part of one long journey to get me -- and my family -- to where we are today. And when I sat in Hawker Chan's restaurant and listened to the many Chinese dialects around me, I knew that his story inspired many Chinese around the world and that his rice dish represented to me what it did to them -- home. Stripped of any political identity, our cultural core -- and pride -- is the same.